January 06, 2008 05:34 PMFiled in:
Family
Our poor little camera's shutter was very tired was very tired after this holiday season. We took loads of photos and movies from Thanksgiving thru New Years. We saw Santa here, we saw him there and everywhere we took pictures...pictures...pictures. I got pictures of the family from every possible angle. Now that the season is over and smoke is still coming out of the camera, let me share some of the highlights.


-
Thanksgiving
- We enjoyed our annual tradition of feasting and giving thanks at The Grammatico's of East Clover Circle. With Uncle John at the bar, Auntie Mikki at the stove, and Auntie Jo Jo's lasagna starting things off, it's no wonder they are booked solid every year.

-
Auntie Carrie's Visit
- Olivia's godmother Carrie came to NYC. She relied on her style consultant Olivia to make sure she looked her best before going out for a night on the town in the big apple.

-
"Halloween House"
- Halloween was over in October, but it's spirit lives on. Olivia and her dad made a gingerbread haunted house together in early December. Scary, late, but yummy!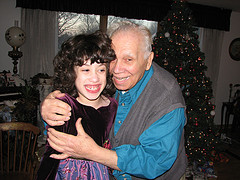 -
Santa
- Olivia went to visit Santa at the Mall. Santa was so happy that she had been 'good' that he came for an early visit to Poppy's house courtesy of the Orange fire department.

-
Christmas Eve
- All dressed up with someplace to go. The Calamita's headed to Renee and Danny's house for the annual Annicelli Christmas Eve Seafood Festival. Olivia had a great time playing with her cousin Ashley. The girls got really excited when Santa paid a surprise visit.

-
Christmas Day
- As always, Margaret and Joey opened their home on Christmas day. A new addition to the menu was a delicious Italian wedding soup, homemade by Margaret's father Vince. With a meal that would serve an entire kingdom, everyone left the table full of Christmas cheer. But wait there's more…a chocolate fountain, and let's not forget the cannoli explosion.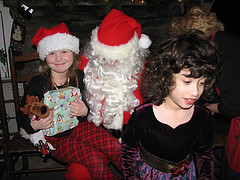 -
Other Holiday Photos
- Here's some more holiday photos that don't fit into a big group. We have Olivia and Poppy, our apartment decorations in New York, Olivia the "football fan" and some pictures at the Fantasy Of Lights in New Haven.

-
Visit to Carrie & Pete's
- The holiday festivities continued after Christmas, because it was off to Carrie and Pete's house for another fabulous meal by master chef Carolyn Gaetano. Olivia was too full, so she spent some quality time with 'Cousin Jackie'.

-
Olivia Visit's Alice & Chris
- Before we said goodbye to 2007, Olivia celebrated with her new friend Alice. Alice's mom Chris and Emily have been friends for more years than they wish to discuss. Olivia and Alice had so much fun together that Alice and her mom are planning to come to NYC this summer for a visit. Alice wants Olivia to take her to some great places to eat. I don't think that will be a problem.